Amsterdam Gay Pride 2021
Amsterdam Gay Pride is on Friday 6 August, Saturday 7 and Sunday 8 August 2021.
In the main pride weekend the Canal Parade, street parties and main dance parties take place. Pride festival is from 31 July till 8 August 2021,
Amsterdam Pride is one of the greatest gay events in the world. You will find street parties all weekend long, the best massive circuit parties with thousands of guys and of course the famous Canal Parade through the historic Amsterdam Unesco canals on.
Gay pride is one of the most busy weekends of the year in Amsterdam. Make sure you book your hotel early!
↓ content continues below the ad
All you need to know
The highlight of the Amsterdam Gay Pride is the Canal Parade. The parade will start around 12:30 and will take all afternoon. See here a map of the route and the participating boats.
Canal Parade
Amsterdam will be full of gay parties this weekend. Here you can find an overview of where and when you drink and dance and a day to day schedule of all party highlights.
Parties and Events
The main gay events and parties all take place in the city center of Amsterdam. August is high tourist season, so make your hotel reservations early. If you visit for a day, please get yourself informed about traffic, public transport and busy areas.
Where to stay?
Main parties and events
Here are some of the agenda highlights where to drink, dance and party during the Pride Weekend.
More info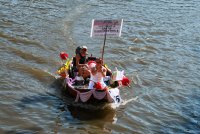 Amsterdam Gay Pride 2022
Dates for Amsterdam Pride 2021 still have to be announced. But in the past 20 years it has always been the weekend of the first Saturday of August.
So our prediction is that Amsterdam Gay Pride will be from Friday 5 August 2021 until Sunday 7 August 2022. This date still has to be confirmed!
Planning to watch the parade from the side of the canals on your own boat? You need to buy a permit for this. Also some more new regulations are in place. Amplified music is not allowed on ships not participating in the official parade.
Having your own boat party
Available hotels during pride weekend

Gay Pride Organization
This website is powered by Nighttours.com and is the independent website about the Amsterdam Gay Pride with a focus on the gay nightlife and parties.
Amsterdam Gay Pride is organized by Stichting Amsterdam Gay Pride. See there website for the full cultural program and how to participate in the Canal Parade and other pride activities.